Elevating Gifting Experiences: Exploring Sipsmith London's Premium Gift Set
In this post, we invite you to peek behind the curtain and uncover the meticulous process behind the creation of Sipsmith London's Premium Gift Set. 
In today's fast-paced and fiercely competitive world, gifting has emerged as a powerful strategy for building relationships, fostering goodwill, and boosting brand visibility. It's no secret that thoughtful presents have become essential tools in every company's marketing arsenal. The art of giving has taken center stage, whether it's the buzz created by PR gifting or the meaningful gestures that strengthen client connections.
These carefully curated gifts have the potential to make a lasting impact. Creating memorable experiences and forging genuine connections that go beyond traditional advertising methods. By embracing the power of gifting, businesses can navigate the competitive landscape with flair, leaving a lasting impression and paving the way for success. So now, it's time to tap into the magic of thoughtful presents and unlock their endless possibilities in today's business landscape.
Founded in 2009 by Sam Galsworthy and Fairfax Hall. Sipsmith set out on a mission to revive the art of traditional gin distillation right in the heart of London. Sipsmith's success can be attributed to their dedication to classic distillation techniques. Such as employing copper pot stills and carefully selecting botanicals.
Sipsmith's flagship London Dry Gin reigns supreme among their impressive lineup, renowned for its balanced flavors and impeccable craftsmanship. Additionally, their Sloe Gin stands out as a delightful expression. It showcases the brand's mastery in creating nuanced and flavorful offerings. Therefore, these bestsellers have solidified Sipsmith's reputation as a brand synonymous with excellence in the gin world.
Collaborating with Sipsmith London is an incredible experience; their story is remarkable. This distinguished distillery, rooted in craftsmanship and innovation, has journeyed from humble beginnings to become a prominent name in the spirits industry. Overall, we were so delighted when they reached out to order premium-finished custom gift boxes for PR.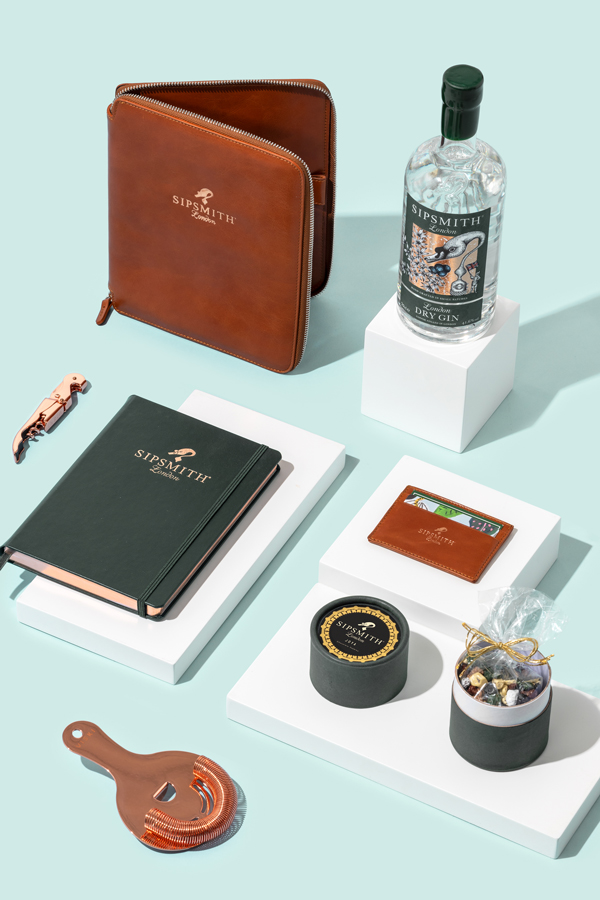 The Product: Sipsmith London's Premium Gift Set
We ensured the premium gift set showcases the essence of luxury, craftsmanship, and the authentic distillation techniques that define Sipsmith London's artisanal spirits. From the choice of materials to the presentation, we thoughtfully design every aspect of the set. This ensemble serves as a tangible reflection of the brand's values. Thus leaving an indelible mark on recipients that forge deeper connections.
Introducing the Sipsmith London's Premium Gift Set—a collection of exquisitely crafted items that embody elegance and luxury. This unique set features a bottle of Sipsmith Gin, a true testament to the art of crafting gin with authentic distillation techniques and artisanal spirits.
Alongside the gin, you'll find the Rose Gold Foiled Nappa Leather Folio and Wallet—a fusion of precision and sophistication. Moreover, meticulously designed with attention to detail, this stylish accessory in rose gold foiled nappa leather adds a touch of luxury to its functional nature. It truly caters to those who appreciate life's finer things. Furthermore, complementing the folio and wallet is the Rose Gold Foiled Nappa Leather Notebook with Full Colour Interior Printing. It serves as a creative companion that exudes luxury. Additionally, with the elegant rose gold foiling on the nappa leather cover and vibrant & personalized full-color interior printing, it creates a visually stunning and indulgent space to capture thoughts, ideas, and inspirations.
To complete this remarkable set, the Choco Chiquitos with Custom Sipsmith Packaging provides an artfully curated delight. Presented in custom Sipsmith branding, these delicious chocolates add a touch of sweetness, enhancing the overall enchanting experience of this premium gift set. Then, to uncork and enjoy the Sipsmith Gin, you'll find a rose gold corkscrew, the perfect tool for savoring every sip.
What Bookblock Offers
When it comes to fulfilling corporate gifting needs, Bookblock stands out as a trusted partner with an exceptional track record. Moreover, our comprehensive range of services caters to businesses seeking to craft memorable gifting experiences. From beautiful bespoke boxes to personalized faux leather notebooks, stylish notebook holders, and embossed notebooks, we offer diverse options to suit every preference. Additionally, we have built an efficient fulfillment software that ensures you'll work with the most comprehensive gift-sending platform.
Need some fresh inspiration for your next business gifting ideas? Planning to wow with tailor-made gift boxes for your upcoming corporate gift sets? Or looking for custom-branded premium packaging for your PR outreach and gifting needs? We've got the perfect solution just for you! All in all, from start to finish, we'll guide you through the Bookblock process, ensuring a seamless experience. 
Ready to explore our full range of services and discover how we can help with your corporate gifting needs? Head over to Bookblock for more details. Altogether, with our expertise in custom-branded items and bespoke gift box sets, we're dedicated to bringing your gifting vision to life. 
Let's collaborate and create unforgettable gifting experiences that will leave a lasting impression. Reach out to us today, and let's turn your gifting ideas into reality!