Ways to Customise
There are a whole variety of ways to customise and finish a notebook, below we have listed some of the more popular methods, from debossing to foiling, screen printing and UV Printing. To view our full range of notebook customisations available for your project, click here.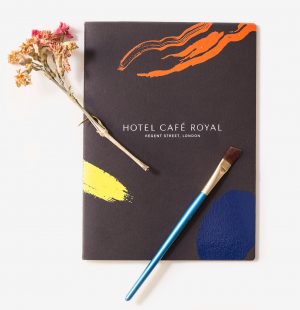 What is Debossing?
Debossing, or blind embossing, is one of the simplest and most popular ways to brand a notebook. To get the debossed effect, both heat and pressure are combined, impressed onto the notebook by a brass bit milled with your logo. This is called a die-stamp. Bookblock have both manual and pneumatic machinery to cope with any quantity you might have in the shortest of timeframes. We leave the die-stamp a little cooler on our hardcover leather notebooks, which leaves a slick and subtle impression, and can cope with fine detail.
Soft leather notebooks are debossed a little bit deeper then hard leather, as the soft leather springs back, which is better for debossing large areas. Both fabric and Moleskine-style PU notebooks achieve a similar finish, as the bookcloth material is stretched over greyboard. It is the greyboard that is compressed, with the material forming over the curve.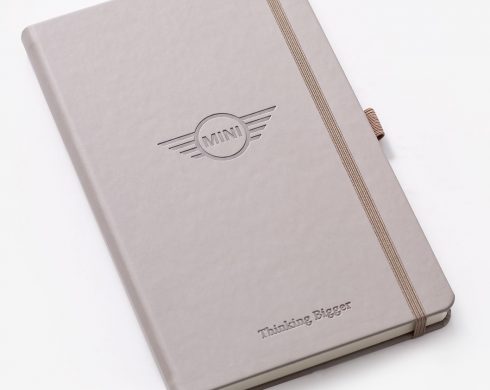 What is Foiling?
Foiling, or foil blocking, is a classic option that is especially well suited to leather and non-leather products. Foil blocking uses the same brass die-stamp as debossing, however, a thin film covered in a heat transfer foil is impressed against the book, transferring the foil to the cover. As the heat does a lot of the work, the impression is not as deep as with debossing. Foiling is a perfect way to add some colour to your custom journal or any of our leather and vegan leather notebooks, this is a classic branding style making sure your notebooks stand out with your brand at the forefront.
The most popular options for foiling are metallic gold and metallic silver. However, there are many other options available. Bookblock have foiled both metallic turquoise and metallic pink in the past. Other options that are available are both matt and gloss colours.
What is Screen Printing?
Screen printing is a printing technique whereby a mesh is used to transfer ink onto a substrate, except in areas made impermeable to the ink by a blocking stencil. A blade or squeegee is moved across the screen to fill the open mesh apertures with ink, and a reverse stroke then causes the screen to touch the substrate momentarily along a line of contact. This causes the ink to wet the substrate and be pulled out of the mesh apertures as the screen springs back after the blade has passed.
Using different layers of ink can build up a multicoloured image, however the result may not be as fine or intricate as UV printing, and certainly won't be as precise as CMYK printing and laminating. Using screen printing, however, is beneficial on larger runs where it is much more cost effective than UV printing. You can also get a much larger array of different coloured inks for screen printing, such as exact Pantones, metallic inks as well as novelty inks such as Ultra-Violet inks (that you can see in the dark) all the way through to bright neon inks and inks with glitter inside.
What is UV Printing?
Perhaps the most versatile of the customisations; if you're looking to include a range of colours, a specific Pantone for your design/bradn, sweeping gradients or full colour photography, a printed cover is by far your best option. This allows you to break away from just your company logo, letting your graphic designers run free with the design. In this way, you can combine illustration and text, imagery to their best advantage with an exceptionally cost effective product. Depending on your desired finish, UV has numerous variations in printing technique.
For a hardcover notebook we would recommend printing on a crisp white paper stock, before laminating it with a soft touch finish which both protects the book, gives it a smooth feel, and brings out the colours. If you wanted a matt card Cahier, we wouldn't recommend any finish, allowing the inks to seam into the card giving a good depth to the print. If you're looking to print onto a PU faux leather, we can digitally print full colour imagery directly onto the PU giving a soft feel without the need for laminate or card.