Covers, Binding & Basics
All the options you'd need to make the perfect product suitable for work, home or retail.
Pages & Printing
Information on pagination, papers, layouts and printing choice, we'll guide you through CMYK and Pantones to get the effect you require.
The Extras
Little finishing touches that make the most of your printed product, from pockets to pen holders and last minute branding opportunities.
Covers, Binding & Basics
Hard, soft, flexible… how we build your book depends on the final style you want. Different binding techniques create different results, and there are thousands of materials to finish it off.
Real Leather
We use fine book-binding leathers as well as more rustic leathers to make unique products.
Bonded Leather
Also known as recycled leather, the finished products is a smooth, flexible material that lends itself to debossing with various patterns or textures.
Faux Leather
Designed to look and feel like leather. Often finished with a soft touch and available in different grains.
Eco Leathers
These materials have been made from vegetative waste rather than oil plastic or real leather off-cuts.
Cork
It is what it is – a fast-growing eco-friendly biodegradable material that lends itself well to cover materials.
Cloth
Available in different strengths from Buckram to linen, cloth harks back to traditional bookbinding.
Silk Touch
This materials has a light grain to imitate a smooth leather surface and a silky feel akin to faux leather.
Digital & Litho Print
We use a soft touch laminate that feels luxury at a very good price. The best option for bright imagery.
Die Cut Card
Best used on perfect-bound books or those with wire/spiral spines, punching a hole in the cover can reveal a little of what's inside.
Saddle stitched
A simple but effective way of binding using metal staples, we can bind either card or faux leather.
Singer sewn
A simple Cahier or exercise book, with exposed thread along the spine. Multiple colours of thread are available.
Softcover
Softbound books can come in either faux or real leather, they can have a clean cut edge or a slight lip.
Ringbound
Spiral and ring-bound books are ideal for sketching and note taking and allow for the removal of pages.
Volant
A slim notebook with a false cover, comprising a sheet of material that tightly encloses the sewn pages inside.
Wrap-Around
If you're looking for a traditional Italian style, a luxurious wrap-around journal is for you.
Inside Pages And Printing
We can print in up to 8 colours including spot colours and Pantones. Photos, graphics, drawings, words, lines and almost anything else in-between.
Printed Pages
State-of-the-art lithographic presses for long-run printing, HP Indigo technology for variable data and digital toner presses for short-runs… we use them all.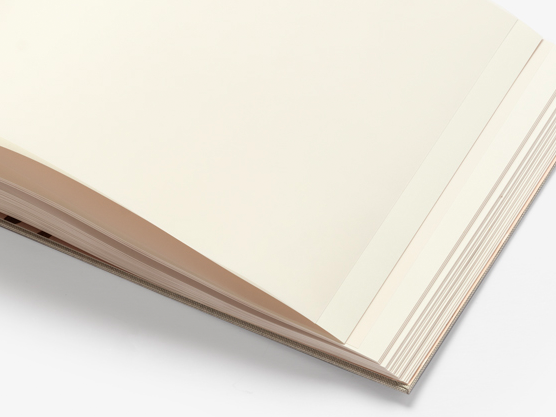 Premium
FSC papers such as Munken create a journal perfect for fountain pens and calligraphy.
Recycled
Different percentages of recycled paper mean that you can still have a premium paper with all the eco-credentials.
Paper Types
Here is a selection of the different paper options available to you. Find inspiration online or send us a sample and we'll endeavour to match.
Image Print
We can recommend the best paper to get crisp bright photos and full block colour for coffee table books.
Transparent
Add a bit of mystery to your book by including transparent paper between chapters.
Stone
Water-resistant paper with calcium content suitable for industrial uses, especially in the health sector.
Specially Sourced
If there's a special paper you require we have swatches from all the major paper mills who distribute within Europe and globally.
Archival
If you want your written or printed content to last a long time we can provide papers with a balanced PH.
Paper Extras
We have a range of different additions that most publishers can't provide.
Tabs
Save your place within the book and colour code your findings, perfect in academia or the working world.
Indexing
Jump to where you need to be with tabs cut out from the side of your page.
Perforation
Tear out pages, provide discounts and deals or coupons or simply allow people to tear off the corner to know what day it is in a diary.
Variable Data & QR Codes
Link to anywhere online through the use of QR codes or personalise each product with a unique code and name throughout.
Fold-Outs
Concertina pages can hide within the book ready to be folded out… perfect for maps or extra long imagery such as art.
Scratch Sections
Not only can you uncover secret sections, you're also able to include certain scents including strawberry and mint!
Sticker Sheets
Perfect for children's books or academic diaries, we can kiss-cut sheets of stickers allowing for easy-peeling.
Magnets
Keeping secrets in a diary? Magnetic closures keep a book shut and away from prying eyes.
Booklets
Additional materials often go inside back pockets to explain the brand, warranty or provide extra information.
Extras
Add components to your journals that enhance the practical nature of the product and improve the user-experience.
Finishing Touches
Making sure your notebook is aesthetically pleasing does not end with the pages in your book and the material on your cover.
Pen Loops
Add a pen holder to grip a pen on the outside of your planner.
Elastics
Keep your notes safe and the notebook shut with a choice of different elastics at various thicknesses.
French Groove
A special machine clamps the book just before the spine to add a crimped line, adding a traditional highlight to the edges.
Enamel Pins
Produce a shiny logo on a metal pin that connects to your elastic and adds an extra bit of branding.
Bookmarks
We can manufacture a special bookmark to go along with your journals for any special branding opportunities you may have.
Back Pocket
Include a folded envelope style pocket in the back of the book to hold quality control stickers or company marketing materials.
Gilt Edging
There are no limits as to what you can do within a notebook. Every page can be custom printed to create a product that is completely unique.
Metallic Colours
Binding foils to the edge of books to provide the ultimate shine as the book block is opened.
Pantone Colours
Whether through foils or painted edges, we can match Pantone colours to achieve the best effect possible.
Printed
Print graphics onto the sides of your book with UV inks, whether they be photos, words or patterns.
Packaging
Arguably the last thing you'll think about but the first thing your customers or clients will see. Do something special with your packaging.
Belly Band
Made to your size specifications with print, foils and debossing available.
Shrink-Wrap
We use biodegradable shrink-wrap wherever we can to protect your products.
Presentation Box
For premium products we recommend a paperboard box as impressive as the book itself.
Eco Packaging (Biodegradable)
Wherever we can we use recyclable and biodegradable materials, from papers to laminates to shrink-wrapping.
Mailer Boxes
Designed to protect a box through the postal system it can be a work of art itself.
Pen & Notebook Box
You can include other items within your box packaging to create a set with die-cut foam or card interiors.
Mailer Wraps
We can provide flat-pack boxes for whenever you want to despatch a book without paying for a full set.